iXcampus offers a unique incubation program for innovative and technological companies. Incubated entrepreneurs or growing start-ups will benefit from a tailor-made support, with a design-based approach, after the diagnosis carried out at the start of the program.

Start-ups will be housed in the Saint-Germain-en-Laye campus.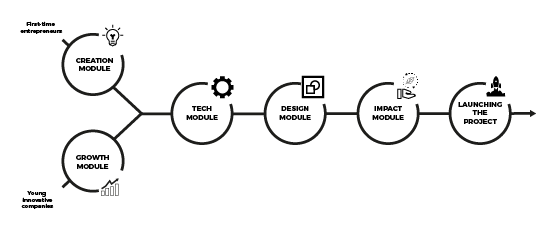 1. Creation module
2. Growth module ( for young growing business)
3. Tech module
4. Design module
5. Impact Module
6. Launching the project
1. Creation module
Objective : To support first-time entrepreneurs in all areas of business creation. This program is tailored to the maturity levels and needs of entrepreneurs.
Description :
Analyze your market and conduct a strategic study / Validate your value proposal.
Validate your business model and build your business plan / Validate your governance model
Define your distribution channel, succeed in your sales campaign, learn how to monitor your sales, manage your sales meetings
Define your marketing strategy and succeed in your digital communication
Financing your business, securing a bank loan and raising funds
Develop and manage your company: hire your first employee, develop team loyalty
Monitor your activity: define your KPI's.
2. Growth module ( for young growing business)
3. Tech module
4. Design module
5. Impact Module
6. Launching the project
iXcampus meets the requirements of innovative companies that are concerned about their attractiveness. The premises, like the values they embody, are at the heart of future talent recruitment requirements. Before the completion of the new buildings planned for 2025, which will house the second stage of the incubator program, iXcampus Saint-Germain-en-Laye will host its first cohorts in a coworking space of more than 500 square meters. Each company will have access to shared meeting rooms.
The coworking space is organized around social areas and outdoor patios that are genuine meeting places for employees and students living on campus. Bathed in light, each workspace has been designed according to the latest architectural standards and made with fine materials from sustainable sources.
A wide range of services (event spaces, shared meeting rooms, conference center, catering, sports center, parking, 24/7 guarded site, etc.) make up our offer.
To make its region more attractive to young innovative companies, the Saint Germain Boucles de Seine community has appointed iXcampus to run its first entrepreneurial cohort. Support and accommodation are 100% free of charge at iXcampus.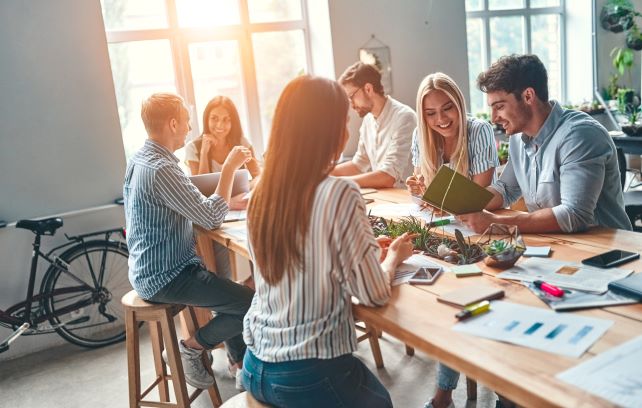 You are an entrepreneur, you are developing a technological project and you want to be involved in an impact-based initiative? You are one of the recipients identified by iXcampus incubator.
The call for project is closed now. Stay tuned on our social media for the next one.
if you are selected by our jury, you will benefit from :

JOIN OUR COMMUNITY OF MENTORS
Are you an expert in a technology, an industrial sector or entrepreneurship?
You want to share your knowledge and give time to support our incubated startups in a unique location to further develop good ideas and innovations?
Join iXcampus community of mentors